Course details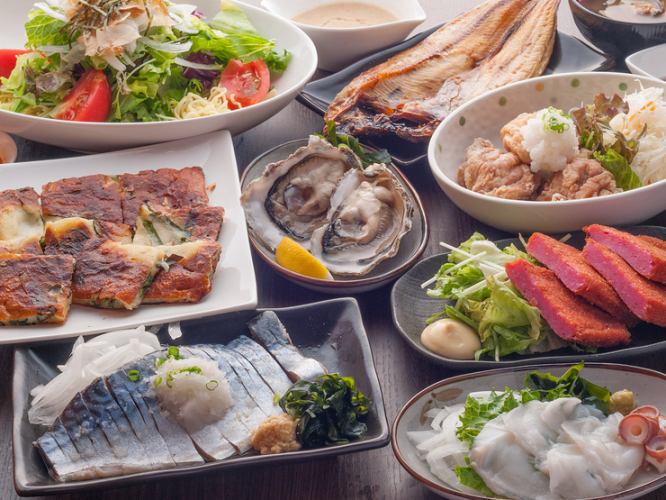 ◆ Cooking 9 items & 2 H with all you can drink 4,000 yen ◆ Pack everything up! Popular Items TOP 3 All in one 【All Star Course】
By using a coupon4000 yen
All you can drink can be changed to 60 kinds of Japanese sake including 【festival】 all you can drink!
From Hokkaido Kushiro [Phantom deaf mackerel]
Tottori morning tightening 【Omi mountain chicken sashimi】
Procurement locality throughout the country [raw oysters]
etc···
Anyway, it is an extremely course that collects "delicious"!
further!
All you can drink can be changed to 60 kinds of Japanese sake including 【festival】 all you can drink!
Please feel free to contact us!
Course menu
① Today's healthy salad
→ It is not just a salad! Mix vegetables thought balanced nutrition!
② Spicy potato fly
→ Homemade blended spice is sake rice!
③ Oyama chicken sashimi Carpaccio style (※ super delicious food ingredient one)
→ We will finish the dishes of Oyama chicken sashimi each morning in the carpaccio!
④ Braised beef harami with black pepper potatoes
→ Burn soft soft stamens with little grease with black pepper and homemade soy sauce sage!
⑤ Phantom's large roasted cooked salad mackerel (※ super delicious food ingredient 2)
→ Grand Menu No. 1 popular item! This is the power of the Phantom North Kusha Mackerel!
⑥ Today's specialty raw oysters (※ super satisfying food ingredients 3)
→ Direct delivery from the best production area at that time!
Those who are not good at raw can also change to oysterfly etc!
⑦ red onion
→ Spicy spicy fried fish. I can only eat in Akasaka!
⑧ Extreme Chicken Namba
→ Perfect copy of authentic Miyazaki recipe! Fluffy and juicy!
⑨ Wrapped things
→ Yakisoba and sofa etc.!
◆ All you can drink ◆
· Asahi Super Dry
· Freezing highball
· Various sour (lemon · lime · grapefruit · orange · calpis)
· Cocktail (Cassis · Gin · SOCO)
· Shochu (potato · wheat · green tea · oolong high)
·Plum wine
· Wine (red · white)
· Various soft drinks
further!
◆ 60 Japanese sake · 10 fruit liquor all you can drink (+1,000 yen) ◆
★ Japanese sake list ★
Lucky festival 50 pure rice big daiginjo (Yamaguchi)
Menyama original raw rice (Hokkaido)
Kiku Izumi Special Book Brewery (Aomori)
Drunkou gate passion special pure rice non-additive (Iwate)
Horiyama Sanjinjuni Rice (Akita)
Dong Gun 1 passion passion net ginjyo sake (Miyagi)
Takami Takami super dry rice (Miyagi)
Yamagata Masami Jun Rice (Yamagata)
Dawai Sakura Ginjo (Yamagata)
Mouth net rice (Fukushima)
Shuraku net rice (Fukushima)
Braised Dry exclusive rice (Ibaraki)
Emotional passion net rice raw sake (Tochigi)
Concrete special net rice non-filtration (Gunma)
Kamera handmade net rice (Saitama)
Kido Izumi High temperature sustainable lactic acid bacteria brewing (Chiba)
Tanzawa Hidefumi Net Rice (Kanagawa)
Shiratori grass green rice (Kanagawa)
Kubota Senju Special Book Brewing (Niigata)
Midorikawa Makoto (Niigata)
Ming Rin Tateyama Tomiyama (Toyama)
Teng Mai Gokushin Rice (Ishikawa)
Black Dragon Order Rice Ginsei (Fukui)
Hayaseura Jun Rice (Fukui)
Mirror stopped water Jun Rin Ginsei (Nagano)
Kikuzaki (Shizuoka)
Launch lucky drinking (Shizuoka)
Baek Juro blush blush blanket (Gifu)
Freshly brewed Nine Heiji Junmai Daiginjo (Aichi)
Strange flower special net rice (Mie)
Sawaya Matsumoto Net Rice (Kyoto)
Matsu no Jusaku Jun Rin Ginjo (Shiga)
Mr. Oku Harima Sanama Yamada 80 (Hyogo)
Wind forest Jun rice puddle No filtration No water addition (Nara)
Yamada Kishiwakai polishing (Osaka) Fukushima Naka US Fall
Kiki Special Net Rice Dry Rokidd (Wakayama)
Suwa Izumi Special Net America (Tottori)
Kamejo Dry exclusive rice (Hiroshima)
Special net American rice liquor of Choshu (Yamaguchi)
Toyo Beauty Junmai Daiginjo (Yamaguchi)
Gyori Gorire Jun rice gift (Kochi)
Dragonfly special rice (Fukuoka)
Toichi Yamada Kinzo Rice (Saga)
Kudo special rice (Kumamoto)
Several kinds of Japanese sake standing regularly in addition to this!
Coupons that can be used with this course